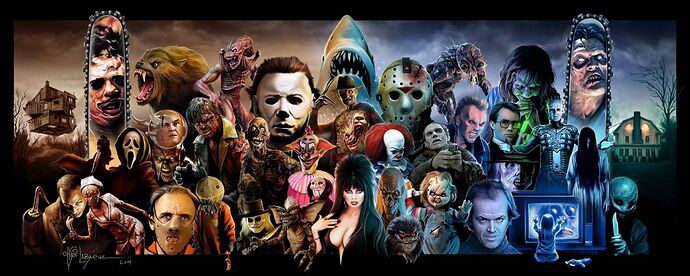 Vote for your favorite horror movie from the list below.
The movie with the most votes will deemed the best horror movie as voted by our forum members.
All members that voted for the winning movie will be entered into a draw.
A member will be picked using a random generator and will win themselves $50 in bonus funds!
Voting will close at midnight ET on October 31st.
To be valid for entry, you must have a valid slots.lv account and have made at least one deposit.
The $50 will be paid as bonus funds with a standard rollover of 25X Playthrough - (Play on Single or Double Deck Blackjack, Baccarat, Craps, Roulette and Mini Games Will Not Count Toward Rollover)
In the case of multiple movies having the same amount of winning votes, and players who voted for any of them will be added into the draw.
A NIGHTMARE ON ELM STREET (1984)
THE TEXAS CHAINSAW MASSACRE (1974)
FRIDAY THE 13TH (1980)
THE EXORCIST (1973)
HALLOWEEN (1978)
THE OMEN (1976)
CHILDS PLAY (1988)
SCREAM (1996)
SAW (2004)
THE SHINING (1980)