Didn't get Bitcoin bonus for last deposit can someone look into this
Me either they come instantly unless there is a issue… is this maintenance messing it up you think?
@Mattcase11, it might take up to 24 hours for the perks to be added.
Ok I understand that but it usually doesn't, but a couple weeks again they had to be added … also last week I thought that I opted in for cash back and they denied my case to have it backed up … is my account eligible now?
As you were advised by CS agent already, your account isn't eligible for cash back, you can check your perks here.
Can I see the perks of not being bitcoin? Not gonna lie I'm tired of 5x Vegas? I'm just wondering also because your sister casinos I'm opted in to bitcoin exclusive but yet every Tuesday I get cash back from them. Just wondering why it's different here
@Mattcase11, I can not really provide any information regarding other web-sites offers, as for the perks of accounts which are not Crypto Exclusive, there are no specific offers, but random promotions offered by Marketing Team.
No I'm talking about my latest deposit I never got the Bitcoin bonus or whatever it's called on it
Is this the same issue that you spoke to CS about?
GotEm!! And as usual Any thing would be better than 1.56 off 50 spins or 6.82 for points it's a joke … opt me out of crypto exclusive please… I spend so much money for zero appreciation back, never get mail box drop bonuses like I use to. Nevr any free please besides this bullshit and I'm sure I'm not the only one who thinks so.
We have opted you out, please note it can take up to 48 hours for any changes to reflect on your account.
Thanks nick… I'm sure the answer will be "I would love to but unfortunately there is no free play with your account" but would there be a free chip for wasting my time and money on those exclusive bonus's ? You would think of being A member for not even a year and have 1.3 mill. points there would be something! Lol figure I would ask
I'm afraid we cannot deal with any bonus requests on the public forum.
@Nick I made a deposit yesterday at 4 pm but did not get my free spins. Also I was playing the Tiki game on Friday at 2.00 a spin and after hitting a bonus the top portion of the screen wasn't reading so for several spins the tiki's came down at the top and were not read. Please look into this.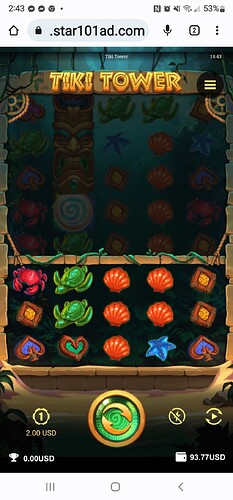 The spins seem added, but we have no gameplay on your end for Tiki Tower on the 11th, you played on the 10th, is this the session you're referring to?
We did review the session at 2:43 on the 10th. Note that all your spins seem to have been completed in the system an none are still open. While you seem to have been having a visual issue likely due to connections, ultimately the spins themselves were calculated in the system and you did get paid out for a few spins as well.