Before claiming in the description it says 1x rollover and after it's 10x because they're added as regular reward points
Well that deposit and the $45 in reward points didn't even last 30minutes

Dang I didn't get that bonus at all

I didnt get one here either. However at ign, same thing…well 40k points 1x rollover and when claimed went to 20x…they wouldnt fix it
Maybe if they would hand out our compensation as we keep being told we wouldnt have to keep pointing out how they keep screwing us!
Same happened here and I went through that entire bonus without winning a single thing!
I want this bonus





No I dont think you do…it was not as advertised. But it was a nice thought.
@Derek can you pls look into why I don't receive any promotion email or notifications with promotions like this I play alot if you take a look at my account highest tier available I deposit thousands every week … I understand you will say it's up to marketing or something but I've requested for this to be escalated several times I've never received received an email I've been playing for years. I believe u have helped me get follie spins before. If u can look into it I would appreciate it. I've deposited thousands last 2 weeks and would be nice to get promotions to help with all the losses.
I'd take a 10x rollover bonus any day
I had a few of them now they r gone can I get mine back please and the free spins
Same here, but when its says 1x rollover and you claim it and its 10x…that needs to be immediately called out and fixed
i wish i could get some bonuses i used to get 2 every day. now im lucky if i get the ones on monday i used ti spend alot here until slots took everything away…no friday follies… nada this is the world we live in rich get richer
I don't even have a rewards store lol I got no options to trade anything in lol
How do you get that btc exclusive program ? I'm in the one where you still get 15,000 reward points. I just get these 2 deposit bonus every day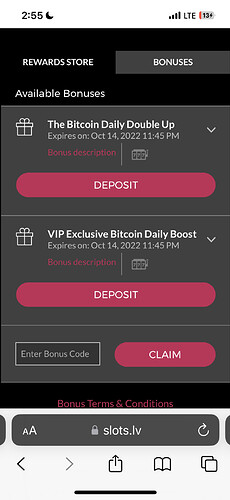 I cant stress this enough…keep it like it currently is for you for as long as possible! The new way is horrible!!! You will inly receive 3 bonuses per week for 150% each. After that, you'll be hard pressed to get much anything else until monday rolls around again
Well i get 7000 reward points and 50 spins on 5 times vegas and get the same bonus above…every time i deposit another deposit bonus shows up. And i don't have to make a deposit for the offers to show up. I haven't made a deposit this week yet and the deposit offers are already in my account. I don't think i have ever received the 150% deposit bonus. Just the 175% and 125% which the other player gets. So i can see where all of the confusion is coming from.